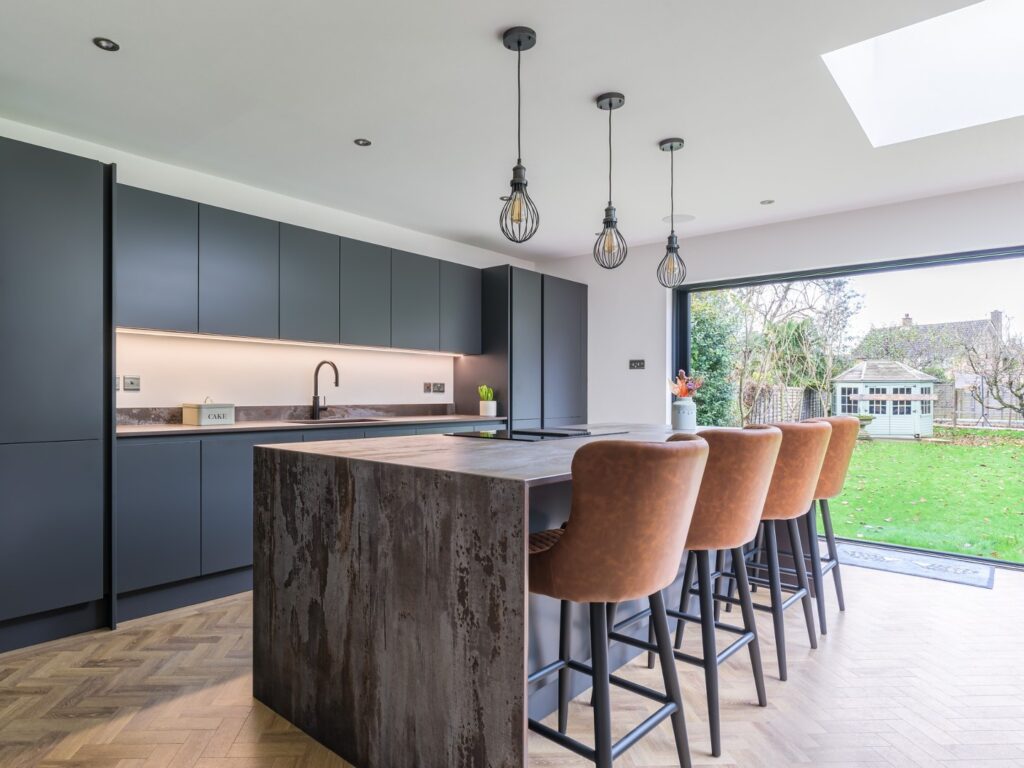 Ceramics & sintered stones are engineered surfaces.
They are produced by combining ceramic clays and mineral colourings, pressed to create the shape, then printed on and fired to create a large slab.
Stunning designs
Like engineered quartz, a ceramic worktop solution is the choice for anyone concerned with durability and resilience – much more so than granite and marble and other naturally occurring materials. They also come in a fantastic array of contemporary colours and styles.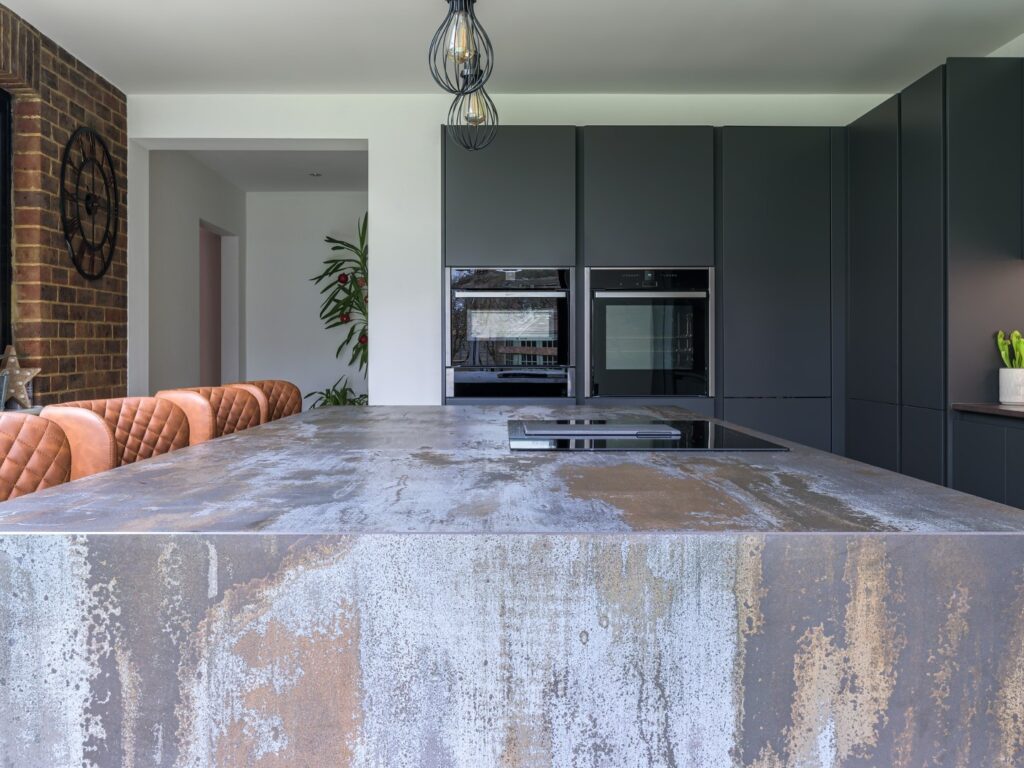 Benefits of ceramic worktops
Durability: Ceramic/sintered surfaces are highly durable and resistant to scratches, heat and impact. They can withstand daily wear and tear, making them suitable for busy kitchens.
Stain resistance: These surfaces are non-porous, which means they don't absorb liquids and are resistant to stains. This makes them easy to clean and maintain.
Hygienic: The non-porous nature of ceramic/sintered surfaces also means they are less likely to harbour bacteria and germs, providing a more hygienic environment in the kitchen.
Aesthetics: These surfaces are available in a wide range of colours, patterns and finishes, offering various design possibilities to match different kitchen styles.
UV resistance: Ceramic/sintered surfaces are UV stable, meaning they won't fade or discolour when exposed to sunlight. This makes them suitable for both indoor and outdoor applications.
Chemical resistance: They are resistant to many household chemicals, reducing the risk of surface damage from common cleaning agents.
Environmentally friendly: Some sintered surfaces use recycled materials in their manufacturing process, making them more eco-friendly.
Disbenefits
Cost: Ceramic/sintered surface worktops can be more expensive than other materials like laminate or solid surface options.
Brittleness: While these surfaces are durable, they can be more brittle compared to natural stone, which means they can chip or crack if subjected to significant impact or pressure.
Installation complexity: Due to their weight and potential brittleness, installing ceramic/sintered surfaces requires professional expertise.
Limited DIY repairs: If the surface gets damaged, repairs can be challenging, and it's often best to seek professional help..
Cold surface: Some people may find ceramic/sintered surfaces to be colder to the touch than materials like wood or laminate.
Seam visibility: Depending on the design and layout, seams may be visible, affecting the overall appearance.
Weight: These surfaces are heavy, and the cabinets and support structure must be robust enough to handle the load.
Choose your stone
There are over 400 stones featured in our request a sample gallery, a few of which are highlighted below. We update this gallery every 12 weeks. Click on the button below the images to view the whole gallery, use the filters to find your perfect stone.
Our work
The images below feature some of our recent ceramic installations. Click on the button below the images for a full gallery of recent installations which you can filter by material.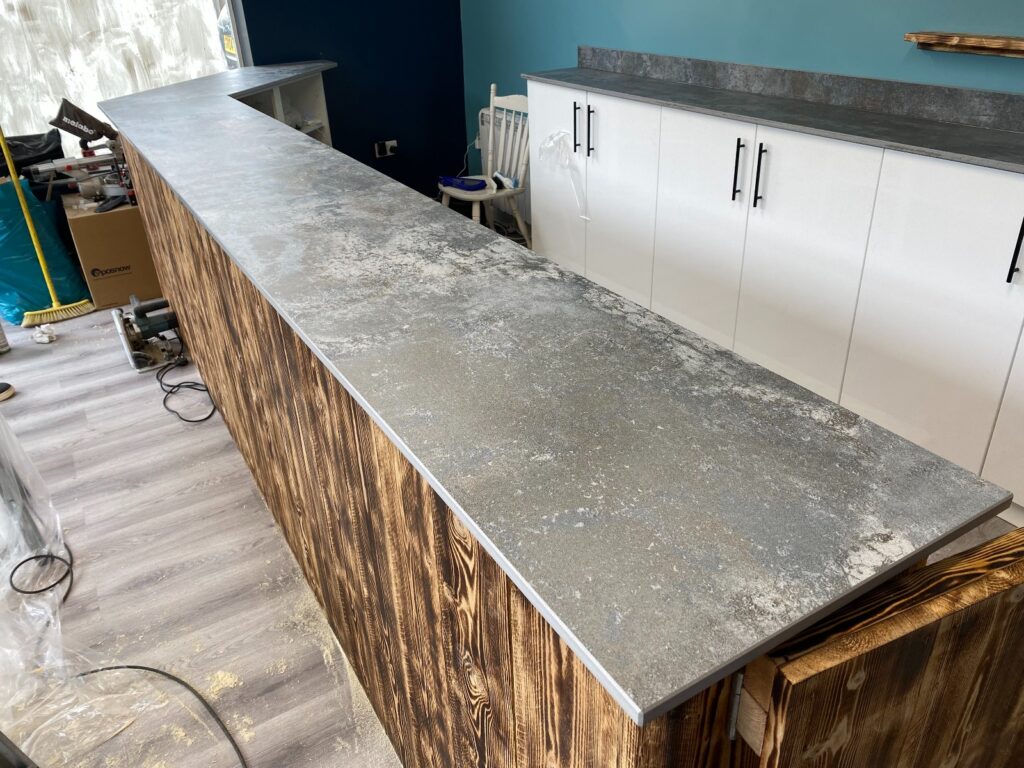 Frequently asked questions
Any questions?
We're here to help! Use the buttons below to request a sample, drop us an email or make an appointment at our showroom. We look forward to hearing about your project.